The fablab of La Casemate, also a center of scientific culture (CCSTI), has opened its doors to the general public since 1979. The Casemate is above all a place of culture and exchange. The "Casemate spirit" is to incite all the curious to take hold of science, to innovate for and with as many people as possible.
In 2014, La Casemate was a cornerstone in the development of the Fab Manager tool. Today, after 6 years of use, what has been the impact of Fab Manager on La Casemate's activity? 
To find out more, we interviewed Pascal Moutet, head of the Media Lab and web project manager at La Casemate.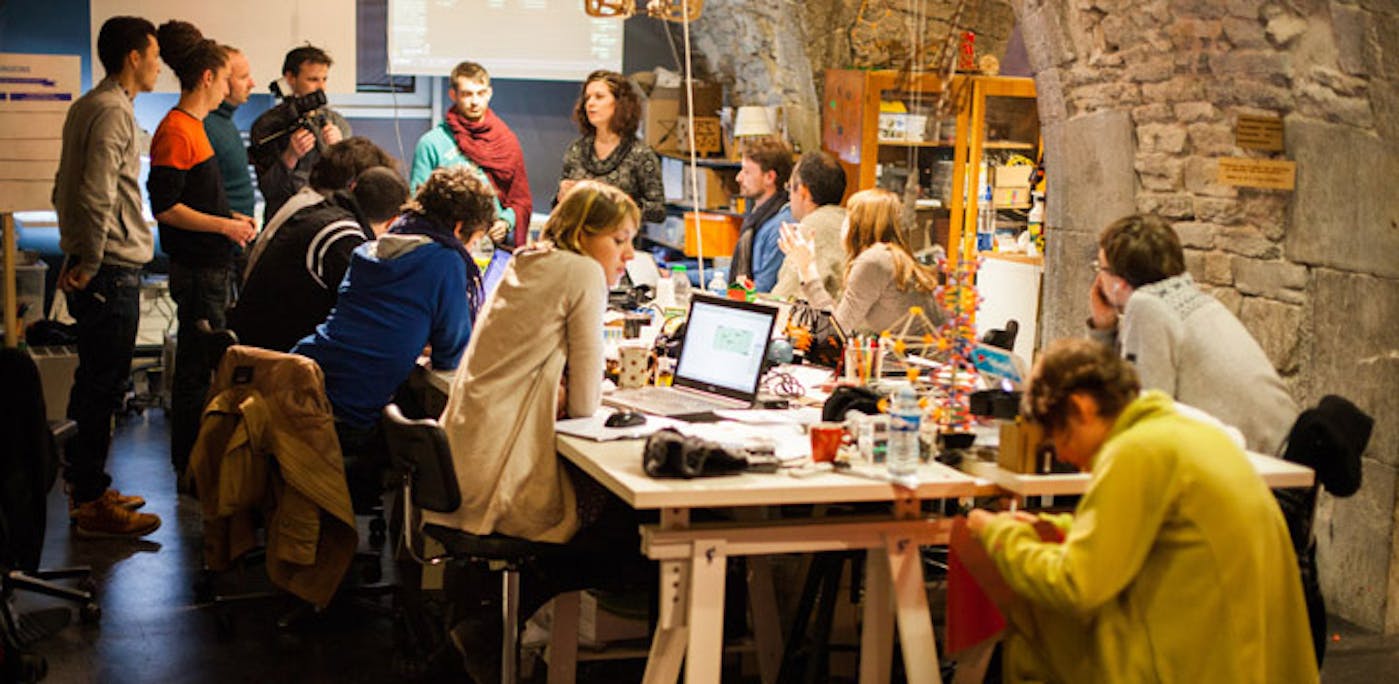 Picture credit : La Casemate
Hello Mr Moutet, you are the Media Lab Manager and web project manager for La Casemate, the Fablab of Grenoble. Can you tell us about your activity?
"I am a web project manager. I design digital services that meet the needs and requirements of La Casemate. I am also in charge of the Media Lab, a support and production facility for new media that talk about scientific culture: podcasts, videos, video games, project documentation."
Fab Manager was born in your home at La Casemate. As a cornerstone in the creation of this tool, can you tell us more about its birth?
"In 2013, the Casemate opened its Fab Lab. A first for a center of scientific culture.  This lab is aimed at all audiences: professionals, craftsmen, schoolchildren, do-it-yourselfers.... In fact, many people quickly showed interest in the activities offered at the Fab Lab: training, workshops, meetings, machine reservations. Faced with a large influx of users and to ensure the proper management of the lab, we had to create a tool to offer online service packages. That's how Fab Manager was born: La Casemate specified the business aspects, and Sleede was in charge of developing the code and the design of the solution. A great adventure that resulted in the implementation of a truly innovative tool."
Since its birth, Fab Manager has gone through important phases of transition. Can you go back over the major stages that have shaken Fab Manager's life?
"First of all, Fab Manager was created to meet the needs of La Casemate. We quickly realized that our needs were finally quite similar to those expressed by many Fab Labs. So we suggested to other science centers equipped with Fab Labs to test and deploy the solution in their facilities. This allowed us to co-finance further improvements. Subsequently, as Fab Manager was financed within the framework of a public investment project for the future, it seemed logical to us to open the computer code of the solution. The open source aspect is quite essential in the world of Fab Labs. It was a very relevant choice because a real community has been created over time around Fab Manager. In 2018, the new finance law has strongly impacted Fab Manager. Without going into details, we would have had to invest heavily in the software to comply with the law. Since we are a science center, not a software publisher, we thought it would be appropriate to propose to Sleede to take over Fab Manager to continue its development. Sleede became the publisher of the solution and we will of course continue to use Fab Manager at La Casemate, like hundreds of other fab labs."
How would you describe the "before/after" Fab Manager? What has changed for you?
"Fab Manager has completely streamlined and simplified the management of the fab lab. Everything is correctly classified, archived and centralized. It is also very simple to administer. Anyone working in the lab can create slots, document a project, make attendance statistics, find invoices. All in all, we have really noticed a considerable gain in efficiency and time."
Today, how do you use Fab Manager on a daily basis?
"We use virtually all modules of Fab Manager: online machine reservations, training and workshop registration, project documentation. We will soon be activating the room reservation module, which I think will be very useful to us to manage the different spaces within the brand new floor of La Casemate."
In your opinion, how long does it take a Fablab to get started with Fab Manager with all these features?
"Already, Fab Manager does not require any special computer skills, which is a strong point for me. I would say that between the discovery of the tool, and the configuration, it takes three days. The interfaces are simple to understand and to inform. The longest part is perhaps to enter all the price ranges in the tool."
Who would you recommend this tool to? And why ?
"I would already recommend it to any fab lab looking for a simple and professional tool to manage all its activities. I don't see other equivalent solutions at the moment.  Beyond Fab Labs, I think that Fab Manager is very well adapted to the management of what are called "third party locations" which are hybrid places where you find rental spaces, machines, workshops... Finally, it should be noted that Fab Manager is a really flexible tool: you don't have to activate everything and it manages a large number of "business rules". So, I think it can adapt to a multitude of contexts."
Simplify your day-to-day management
Let us host Fab Manager for you, choose the Cloud offer that suits you.
Start in the cloud