Fab Manager, the tool for your community

Clara Carrere

Your fablab is a place where ideas, exchanges and projects of your members abound. Every day, your members collaborate, create, invent, build to give life to many projects. Fab Manager is part of this dynamic by providing you with tools to enliven and create links within your community.
A project gallery, a space for sharing and exchange
With its project gallery, Fab Manager gathers all the projects completed by your members. It thus enhances the achievements of your community and promotes the sharing of experience and knowledge.
In two clicks, your members can add their project. An illustration, a description of the various stages of creation, the addition of pdf documents and the mention of machines and materials used come to document and give visibility to each project. Your entire community can thus consult and even share them on social networks.
Projects are often born from the cooperation of a group. Also, on each project several people can be invited to collaborate. A simple search by name allows the project initiator to quickly find partners and invite them to contribute. To facilitate their exchanges, a discussion thread is at their disposal within each project.
Fab Manager goes even further to encourage sharing. By activating OpenLab, you can share your members' projects with other fablabs. This way, you will have access to projects done in other fablabs using Fab Manager and vice versa. Through this gallery of shared projects, your community will be able to get inspired and create new collaboration.
Within the gallery, projects abound. To find your way around, nothing better than a search engine allowing everyone to quickly find their own projects or a particular project according to a theme, a machine or the use of specific equipment.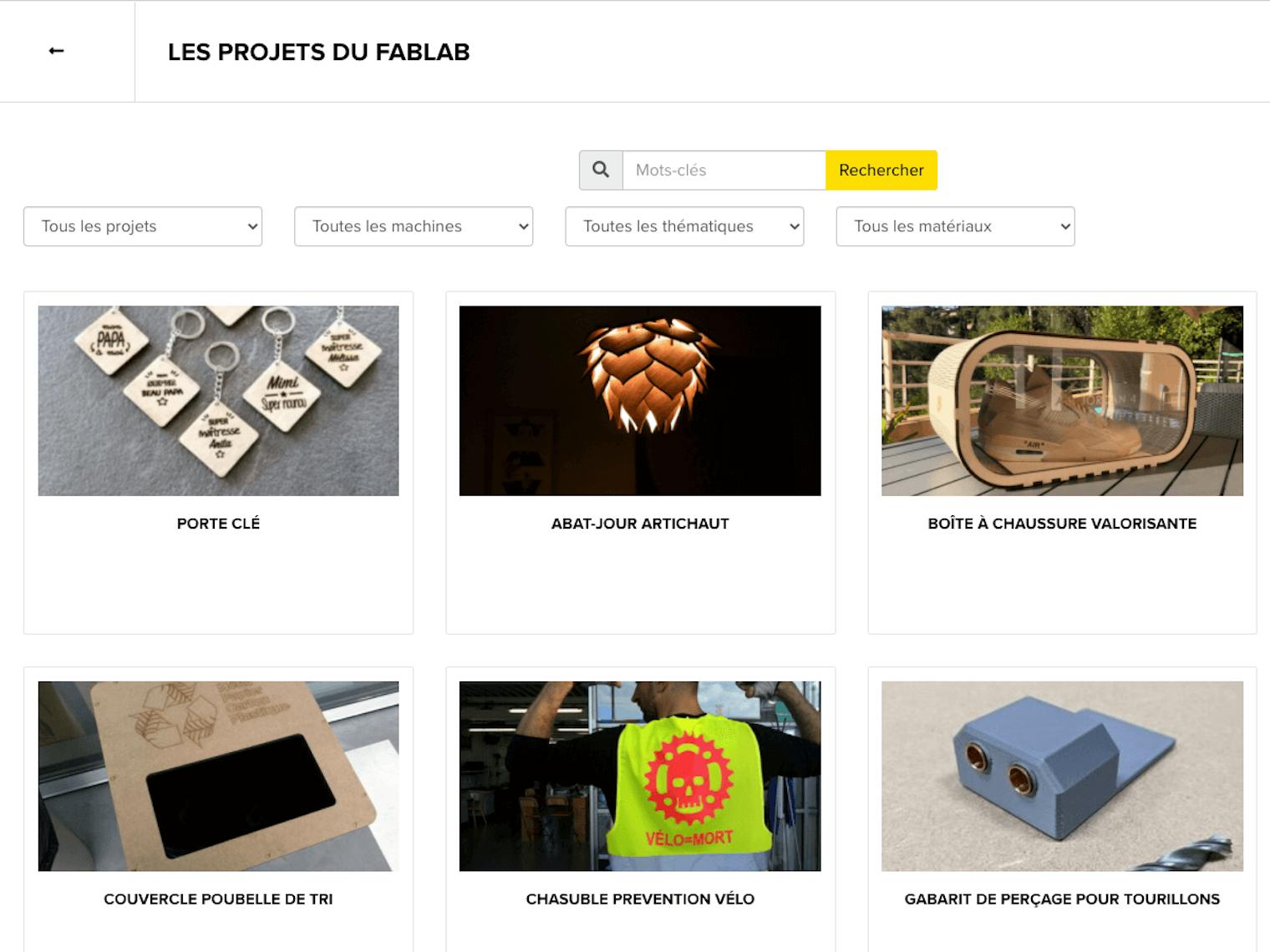 Space and time, link builders
Animate the life of your fablab by creating exchanges with and between your members is part of your mission. Fab Manager helps you to achieve it.
Add value to your events
Fab Manager allows you to more easily bring together your members during your events by making them visible and attractive to your community.
News events can thus be put in the spotlight by appearing on the home page of your Fab Manager. This makes it impossible for your members to miss out. For regulars, they can find all your events in the dedicated area.
Each event is the subject of a visual and a description written by you, enough to make your members want to participate. Without forgetting the essential! Booking information. Free event, paid event, with one or more specific rates, with or without seat limitation, recurring or not, everything is possible with Fab Manager. A simple setup, and this information is automatically made available to your members.
Better know and follow your members
Be closer to your members thanks to a fluid management and knowledge of each one's activities.
To help you, Fab Manager provides you with several tools.
Each of your members is affiliated to a Profile that contains all their personal information (name, first name, email, ...) as well as the history of their activities and reservations made.
The concept of User Groups offered by Fab Manager is an effective tool to segment your members and apply different rates.
The identification of members by assigning a "label", allows you to tag your members and target your actions. For example, you can tag a group of students working on the Mountain project in order to dedicate reservation slots to them. In the same way, you can tage several Expert people on the use of a machine, etc. The possibilities are numerous and will allow you to valorize the projects as well as the knowledge and know-how of your members.
Loyalty is also an axis that reinforces the link with your community. Also, Fab manager gives you the opportunity to apply promotional codes, or offer credits when subscribing to a membership. Each credit can be assimilated to a training, a machine or a space.
You will have understood that Fab Manager is designed to become the driving force of a new dynamic within the community of your fablab.
Simplify your day-to-day management
Let us host Fab Manager for you, choose the Cloud offer that suits you.
Start in the cloud